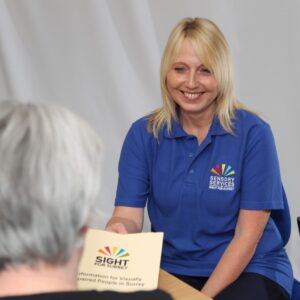 Eye Clinic Liaison Officer covering (Frimley Park, Royal Surrey Hospitals)  
Full time / Part-time: (days to be negotiated)
Salary £21,000 per annum pro rata
Sight for Surrey is looking for someone to join our existing Eye Clinic Liaison Officer (ECLO) team in the new Charity Services Department.   As an ECLO/Sight Care Advisor you will provide people who have been diagnosed with sight loss with the practical and emotional support they need.
When people are diagnosed with sight loss, it can be an emotional, traumatic and challenging time in their life. In this role, based at the eye clinics within the NHS across Surrey (various locations) – you will use your knowledge and skills to the full as you provide people with the practical and emotional support they need.  Offering individually-tailored advice, you will support them to adjust to their change in circumstances and provide signposting and onward referral/access to other services they require.
Sight for Surrey deliver services in the county such as rehabilitation, reablement, employment support, community outreach and independent living advice.
The role of Eye Clinic Liaison Officer will involve you providing impartial information, guidance and advocacy to blind and partially sighted people, their families and carers as well as:
Providing initial emotional support as needed
Carrying out needs led assessment and offering individually-tailored advice
Bridging the gap between hospital and community-based services
Working closely with relevant hospital staff to establish robust referral processes to services
Working closely with medical professionals, statutory bodies and local service providers
Maintaining strong links with appropriate eye clinics or low vision services.
To succeed as Eye Clinic Liaison Officer you should have
A good understanding of the Health and Social Care Sector
Experience of assessing individual needs
Positive networking, presentation and partnership-building skills
Personal initiative and the ability to prioritise own workload and be self sufficient
IT literacy and competency in the use of Microsoft Office
Ability to work effectively with volunteers.
A Disclosure and Barring Service will be required. Training can be provided. In view of our Social Care activities, our aim is to have a fully vaccinated workforce, and we encourage and support our workers to protect themselves with available vaccinations.
Closing Date for applications:        Monday 4th July 2022
For an application pack for the above post, please contact Sandra Chenery by email: schenery@sightforsurrey.org.uk, Tel. 01372 869962.   Alternatively you may download the forms and job description below:
Equal Opportunities Monitoring Form – ECLO
GDPR Privacy Notice for Job Applicants
Please send your completed application form and equal opportunities form to Sandra Chenery, by email or by post to Sight for Surrey, Rentwood, School Lane, Fetcham, Surrey  KT22 9JX.
Sight for Surrey is an equal opportunities employer and accredited as Disability Confident.
Website:  www.sightforsurrey.org.uk
Registered Charity No: 1121949, Company No: 06309405