Welcome to Sight for Surrey
1922 – 2022: Our Centenary
Sight for Surrey is celebrating 100 years of helping and supporting people in Surrey with a sensory loss! Help us mark our Centenary year with exciting events, fundraising challenges and your chance to make a difference.
We're here for you and your family, delivering specialist, hands-on, practical services tailored to your needs. We want to inspire you to take the small steps today and achieve the breakthroughs tomorrow.
Support our work
We provide highly specialist support for people with sensory loss in Surrey. A large part of our life-changing work depends on voluntary donations. Gifts of money and time help fund the much-needed expertise and equipment that makes all the difference in helping people to overcome some of life's challenges.
Fundraise
Help raise funds to support the vital work we do for those with a sensory impairment
Donate
Your donation, however big or small, helps us to support those with sensory loss.
Volunteer for us
Be part of something amazing, volunteer with us in a range of fulfilling and interesting roles.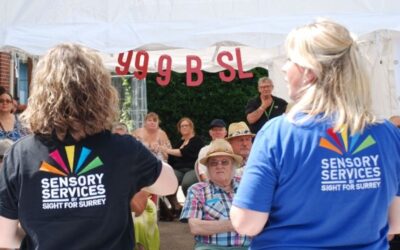 Sensory Services by Sight for Surrey hosted a party for the Surrey Deaf community on Friday 17...