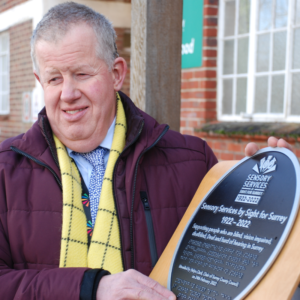 It has been 6 months since we marked the first celebration of our Centenary year by revealing our new Centenary plaque on 24th February 2022. [Image to the left shows Trustee Russell Gilmore, who is deafblind, feeling the braille on the commemorative plaque and smiling to camera.] This is at the entrance to our offices in Fetcham, do check it out if you visit!
We have achieved a lot and enjoyed many events marking our Centenary, from Dame Judi Dench becoming our patron, and the plaque reveal to kick off celebrations, to our Centenary Exhibition opening at Chertsey Museum in March before going on the road.
We also held the Choirs Unite event at The Menuhin Hall, a glorious evening of choral performances on 10th March.
We enjoyed our first Deaf Comedy Night performed in BSL at the Electric Theatre in Guildford on 14th May with the incredibly talented John Smith and Gavin Lilley.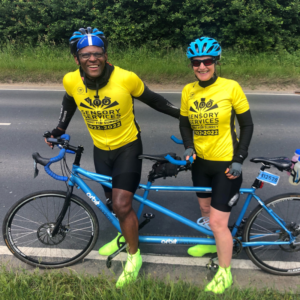 Our seven RideLondon cyclists tackled 100 miles of the Ride London Essex event on 29th May and became Centenary challenge makers! [Image on the right shows two cyclists, one a pilot rider and one the vision impaired rider, wearing yellow cycling jerseys with 'Sight for Surrey' logos on whilst straddling their tandem bike on the side of the road mid-ride.]
We enjoyed 3 Coffee, Cake and Celebrate event around Surrey at Caterham, Staines and Godalming, getting our chance to meet more members of the community and get together with lots of yummy cake!
Our Open Day also welcomed lots of new local businesses and organisations to the Sight for Surrey offices in Fetcham to learn a bit more about what we do, many taking part in the Deaf Awareness, and Equality, Diversity and Inclusion workshops on 4th May.
Music in the Park provided us with a joyous evening of music in the sunshine on 12th June at Hatchlands Park, National Trust – thank you to the Guildford Lions for organising this wonderful event which raised over £7,500!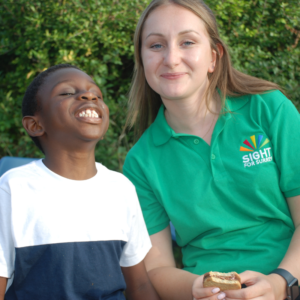 We held the Surrey launch event for the new 999 BSL app welcoming representatives from across Surrey's emergency services teams to our offices on the swelteringly hot day of 17th June.
Our blind and vision impaired children and young people's team enjoyed their Centenary residential weekend over 23rd and 24th July. A few weeks before that they enjoyed meeting the llamas, ice skating and many other fun activities. [Image on the left is of Rosie, and one of the young people we support who is smiling and about to eat a smores biscuit at the CYPS residential.]
Thank you for being part of our Centenary celebrations so far and we are looking forward to the next 6 months!
Coming up we have:
Cricket Fun Day, at Oxted & Limpsfield Cricket Club (Sunday 18th September). Find more info: here
Centenary Exhibition, at Guildford Museum (Saturday 8th October – Saturday 5th November) FREE ENTRY
Carol Concert, at St Andrews Church, Cobham (Tuesday 6th December) ON SALE SOON
https://sightforsurrey.org.uk/get-involved/our-centenary/