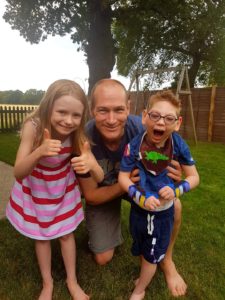 Hannah Barnard, aged 8 is cycling 26 laps around her garden this Sunday 26th April to raise money to support local charity Sight for Surrey as part of the nationwide 2.6 Challenge and hopes to gain her Brownie fundraising badge too!
Hannah, who lives in Hersham, with her Mum, Dad and brother James, came up with the fundraising idea as brother, James, is supported by Sight for Surrey and saw the recent appeal by Sight for Surrey to help them fundraise during the COVID-19 crisis.
Sight for Surrey supports blind, visually impaired, Deaf, hard of hearing and deafblind people in Surrey and due to the Coronavirus has had to cancel all fundraising talks and events, which provide a valuable income stream for the charity. The 2.6 Challenge is a UK mass participation event launched in response to COVID-19 to 'Save the UK's Charities'.
Lisa Fletcher, Head of Fundraising for Sight for Surrey said, "we are delighted that Hannah is fundraising for us and we wish her well in her garden cycle."
To sponsor Hannah please visit virginmoneygiving