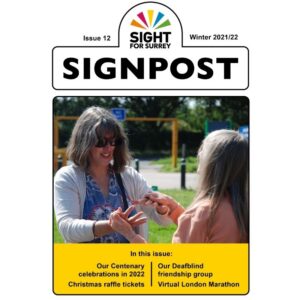 The new winter 2021/22 edition of Signpost is out now!
This bumper issue is brimming with news and stories about what we have been up to, and excitingly revealing details about our Centenary celebrations in 2022!
You should be shortly receiving a copy of Signpost in your preferred format. If you haven't got your copy yet then please email us giving us your name and stating the format you prefer. The formats available are:
Large print
British Sign Language video
Audio (CD& USB stick)
Screen Reader Friendly
As always if you have any comments or ideas for future issues of Signpost then please email us. Happy reading!