The winter 20/21 issue of Signpost is out now brimming with news and stories about what we have been up to since the last edition. Read about how we have risen above and beyond the pandemic challenges and adapted our services during the current health crisis, whilst ensuring we all adhere to government guidelines. It has been a tricky balancing act but we are lucky to have a great team of dedicated staff that want to keep helping and supporting you, our service users.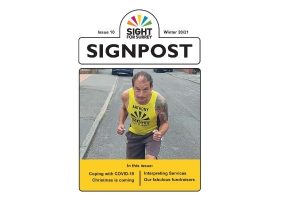 PPE gear doesn't come cheap either but we are fortunate that two fabulous fundraisers (see Anthony on the front cover) have been running and cycling incredible distances to raise money for us by taking part in virtual challenges as all our fundraising events got cancelled.
This issue also contains details about our Christmas raffle. There are some fabulous prizes to be won including £250, a £50 John Lewis/Waitrose voucher, dinner at The Plough in Effingham, a wine tour of Denbies in Dorking and lots, lots more. If you would like a book or two of raffle tickets, please email us here. and we will send them out to you free of charge, with a freepost envelope to return your money and ticket stubs. Tickets cost £1 and a book costs £10. Please sell them to family and friends, once it is safe to do so.
Signpost is available in 5 different formats including;
Braille – sent out on pre-order only
If you would like to receive a copy of the latest issue of Signpost to read over a cuppa, please email us here with your name and postal address and what format you require.