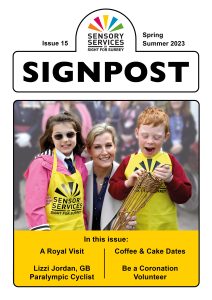 The new edition of Signpost Spring/Summer 2023 is out now and is packed with interesting stories about the people we help and support, from a GB Paralympic Cyclist, to a Ukrainian refugee.
On the front cover of this issue is a stunning photograph of The Duchess of Edinburgh, with two of the children we support, following her visit to our offices in Fetcham last month. Inside the magazine is a two page feature about the Royal visit, details about our live music concert, Music in the Park, and how to buy tickets, a handy schedule of all the other events we have planned during the year and lots more. It's an issue you can't miss!
We produce Signpost in five different formats to suit your needs including:
Signpost Spring Summer 2023 (large print)
Signpost Magazine – Spring-Summer 2023 Screen Reader Friendly
Also, for the first time this edition of Signpost is available on Alexa via 'Talking Newspapers' just say 'Alexa enable Talking Newspapers' and when asked what region say 'Alexa play Signpost'.
If you don't receive Signpost, and would like to receive a free copy, then please send us an email with your name, address and preferred format here.