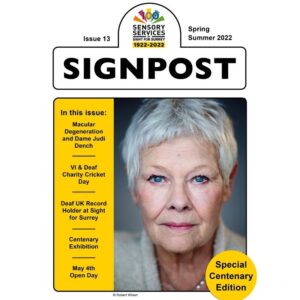 The special Centenary edition of Signpost Spring Summer 2022 is out now and brimming with stories, events and our plans during our exciting Centenary year!
To read, listen or watch your preferred format of Signpost, please click on the relevant link below.
We also produce Signpost in Braille, if you would like to receive a copy in this format then please email us here
We hope you enjoy reading this issue of Signpost, please do send us any ideas or stories you would like to see covered in future issues, and we hope to see you at one of our events this year, there are lots of choose from!