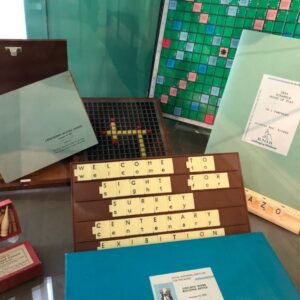 The Sight for Surrey Centenary Story Exhibition is touring around Surrey during the charity's Centenary year. The exhibition's next home will be at Guildford Museum opening from Saturday 8th October until Saturday 5th November 2022.
The Centenary Story Exhibition is a display of historic items, documents and original pieces collated from the charity's 100 year history of supporting people in Surrey with a vision impairment. Some antique items have also come from the Blind Veterans UK archives giving visitors an insight into the lives of people with a vision impairment beyond the Surrey borders.
The exhibition follows the development of technology, what the charity does and where it has come from, tracing the organisation's journey through the ages with useful tips and fun facts along the way.
Visitors will also have the opportunity to try out some braille writing and a 'feely bag' challenge. There is a BSL video of the exhibition, braille and large print guides are also available. Guildford Museum is located at Castle Arch, Quarry Street, GU1 3SX.
Sight for Surrey is a charity that supports people in Surrey who are blind, vision impaired, Deaf, deafblind and hard of hearing. 2022 is our Centenary year and we are celebrating this occasion with a host of fundraising events, for more information visit: www.sightforsurrey.org.uk.