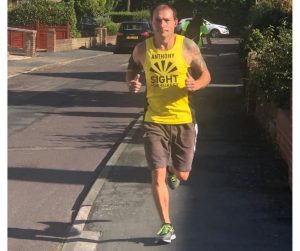 Chertsey chap, Anthony Roake, is preparing to pound the streets of Chertsey, at this year's virtual Virgin London Marathon on Sunday 4 October, and raise money to help support Sight for Surrey, a charity that provides a lifetime of support for people who are blind or partially sighted, Deaf, deafblind or hard of hearing.
Anthony's son Lee, who has been partially sighted since birth and registered blind at six, has been helped by Sight for Surrey since he was 3 years old. The support Sight for Surrey has provided Lee includes habilitation and mobility training. Habilitation training involves teaching a child or adult a variety of skills that sighted people take for granted including the layout of their house/room, how their wardrobe is organised so they correctly identify and put outfits together through to how to button up a cardigan. As the person gains confidence, they will also be taught the crucial skill; how to use a cane. Mobility training involves teaching an individual the route to a specific location from home or work to another place, the outcome being that the person will in time be able to get around independently.
Anthony Roake, said "Sight for Surrey has been an inspiration to us all and I can honestly say without their expertise, guidance and vision Lee wouldn't have progressed and become the young man he is today".
The virtual 2020 Virgin Money London Marathon will take place on Sunday 4 October and participants will have 23 hours 59 minutes and 59 seconds (from 00:00 to 23:59:59 BST) to complete the 26.2 miles, which they can choose to run, walk or jog – making the event the most inclusive London Marathon ever.
To sponsor Anthony and support us to continue our work, please visit https://www.justgiving.com/fundraising/anthony-roake