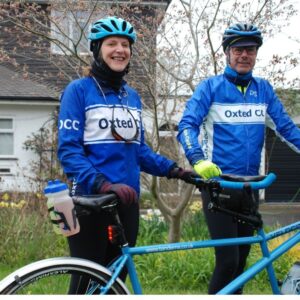 Six amazing cyclists are taking part in Ride London Essex on Sunday 29th May and raising money for local sensory loss charity Sight for Surrey to help support the charity in their Centenary year. The team all have shared experiences with sight and or hearing loss and include a blind lady from Oxted, a man whose teenage step daughter we support and an Australian lady who spent a year studying at The Royal National Institute for the Blind in Melbourne.
Ride London Essex is a gruelling 100 mile bike ride that starts at Victoria Embankment, London heading East out into Stratford, Woodford and deep into Essex before heading back into London to finish at the iconic Tower Bridge.
Amanda Whiteley and her twin sister Helen, are both registered blind and supported by Sight for Surrey. Amanda is a keen cyclist, and rides on a tandem weekly with her local cycling club, but decided to push herself out of her comfort zone and set herself a challenge. She approached her friend and pilot rider, Patrick Smith, who was free and keen to join her on Sunday 29th May and take on this epic 100 mile bike ride.
Amanda said, "I wanted to give something back to the charity that has given my sister and I so much guidance and support to help us remain independent and I am looking forward to taking on this challenge".
To sponsor any of our riders please visit their Just Giving fundraising pages below;
To sponsor Amanda Whiteley, visit www.justgiving.com/fundraising/Amanda-Whiteley4
To sponsor Chris Zahner, visit www.justgiving.com/fundraising/chris-zahner1
To sponsor David Hyatt visit https://www.justgiving.com/fundraising/david-hyatt3
To sponsor Marianela visit www.justgiving.com/fundraising/Marianela
To sponsor Paul Cooper visit www.justgiving.com/fundraising/Paul-Cooper2022
To sponsor Marianna visit www.justgiving.com/fundraising/mazzineg