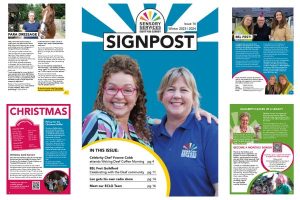 The new winter edition of Signpost 2023/24 is out now and full of news and stories from all corners of the charity.
From supporting a Para Olympic Dressage horse rider, attending BSL Fest in Guilford to skiing at the Snow Centre in Hemel Hempstead, we have had a busy few months since the last issue of Signpost, its been difficult to condense it all in to 20 pages!
Also, enclosed in this edition of Signpost are a couple of books of tickets to our Christmas Raffle with some amazing prizes to be won including £250 (email fundraising@sightforsurrey.org.uk) to order more books), details of our all important opening hours over the festive period, and dates of our new Meet-Up and Catch-Up events in 2024.
To ensure inclusion and accessibility, Signpost is available in five different formats including:
Signpost Winter 2023 Large Print
Signpost Winter 2023 screen reader friendly
Braille – please email communications@sightforsurrey.org.uk to order
If you would like to receive Signpost then please email communications@sightforsurrey.org.uk and request to join to the Signpost mailing list, stating which format above you would like to receive it in.
So put the kettle on, sit back and relax with a cuppa, and we hope you enjoy watching, reading or listening to our news.