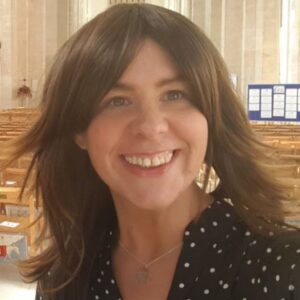 Sensory Services by Sight for Surrey has announced today, 7th October 2022, Clare Burgess as their new Chief Executive Officer. Clare Burgess was previously CEO of Surrey Coalition of Disabled People and takes over the reins from Bob Hughes, who is retiring after nearly ten years leading the charity.
Christine Wilmshurst, Chair of Trustees at Sensory Services by Sight for Surrey said, "I am delighted that Clare Burgess will be joining us at Sensory Services by Sight for Surrey. Clare brings great experience from the voluntary sector, a real appreciation of the work we do along with a wealth of knowledge and values that really align our mission and ambition. The Board of Trustees are looking forward to working with Clare in fulfilling the charity's strategy, developing our existing services and growing our charitable led services over the coming years."
Clare is a highly experienced manager and leader.  She has worked across local, regional, and national charities in both executive and non-executive roles. She has been able to establish trusting relationships across the local authority, health and voluntary, community and faith sector, both regionally in Surrey and nationally. This has enabled her to influence policy and take a leadership role in driving forward collaborations, projects, and alliances.
Bob Hughes said, "I am sad to be leaving Sensory Services by Sight for Surrey after nearly ten wonderful years but I am confident in Clare's ability to lead the charity forward. I have worked with Clare over the last few years and believe she has the drive, determination, experience and expertise to take the charity forward."
Bob Hughes will remain at the charity until Clare takes over in the New Year to ensure a smooth handover.
Clare is currently Chief Executive Officer at Surrey Coalition of Disabled People where her main responsibility is to provide leadership to a user-led Disabled Peoples Organisation (DPO).
Clare previously worked for Mary Frances Trust, a mental health charity, and prior to that, for Guide Dogs for the Blind. Clare has lived experience with a vision impairment and tinnitus that brings an understanding and empathy to the role.
Sensory Services by Sight for Surrey is a charity that supports people in Surrey who are blind, vision impaired. Deaf, Deafblind and hard of hearing. This year the charity is celebrating its Centenary with a host of fundraising activities and events to raise funds to help support people with a sensory loss.