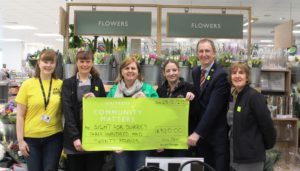 A huge thank you to all the wonderful Waitrose Dorking shoppers for voting for Sight for Surrey last December in the Waitrose Dorking, Community Matters green token scheme. Sight for Surrey has just received a cheque for £320, this money will go directly towards a residential weekend away for our blind and vision impaired children and their families, giving many of them a welcome break they just don't get the opportunity to take.
Lisa Fletcher, Head of Fundraising at Sight for Surrey said, "as a charity that relies heavily on donations from members of the public and organisations, the Waitrose Community Matters Scheme is a vital source of income that allows us to put on events like Sayers Croft".
The last children's residential trip took place in August 2019 and 11 children and their families, many with complex needs, stayed at Sayers Croft, an activity centre in Surrey. Here a group of blind and vision impaired children and their families took part in various activities over the weekend, including archery, creek crawling and caving, many dabbling with new experiences and activities they never thought possible with a visual impairment.
Jane Morris & Sarah Newall, Community Champions from Waitrose Dorking said, "we are delighted to support this worthwhile local charity".
Sight for Surrey support people who are blind, vision impaired, Deaf, deafblind and hard of hearing. To help us continue our work and make a donation visit Sight for Surrey