Fancy winning £250 cash to help you through the January blues? Or how about a 30 minute massage in your own home to help you get over the stress of Christmas day or a cut & blow dry to unveil the new you in 2020?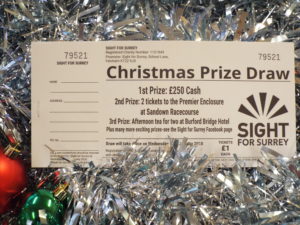 In the Sight for Surrey Christmas raffle you can win all these and many more amazing prizes, all kindly donated by lots of wonderful local businesses. We have 15 great prizes to give away and all proceeds from the raffle will go directly to supporting a blind, Deaf or deafblind person locally in Surrey.
Tickets cost only £1 each and come in books of 10 and you can buy as many as you choose. Just remember our Christmas raffle provides invaluable funds to Sight for Surrey to enable us to provide some seriously fun activities, that many Deaf, blind or deafblind people would struggle to do alone, like Go-Karting, ice skating, horse riding, sky diving and canoeing to name a few.
Call 01372 377701 to order your raffle tickets and we will provide a freepost envelope to return your ticket stubs and cheque. Our full list of prizes is available here, good luck!