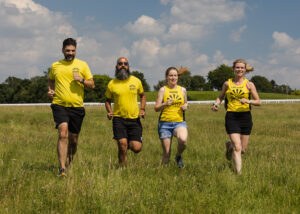 Sight for Surrey has six runners taking part in this year's Virtual Virgin London Marathon, on Sunday 3rd October, all with their own unique reasons for taking on this gruelling 26.2 mile/42.2km challenge!  Each one is aiming to smash their £200 fundraising target and here we give a short insight into why they are taking on this challenge. If you would like to sponsor any of this amazing bunch of runners their individual fundraising pages are shown next to their name.
Frannie https://uk.virginmoneygiving.com/FDWsight4surrey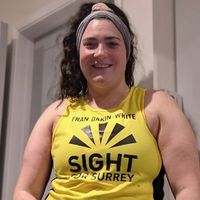 "I am running the virtual London Marathon for Sight for Surrey to give back to the charity who gives my Dad so much. When my dad became severely sight impaired, Sight for Surrey supported him with information and equipment, and still continue to do so.  By increasing his understanding of computer hardware and software for partially sighted people he has gained back some independence that his vision loss took away. I began running during lockdown and enjoyed it so much that I decided to push my personal achievements to be able to run a marathon. I am following a training programme and five times a week with a variety of runs from long distance, speed and recovery runs."
Naomi and Keiran https://uk.virginmoneygiving.com/NandKMungroo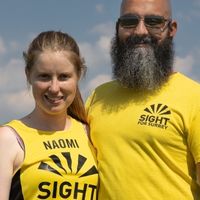 Naomi works at Sight for Surrey and said "I have worked as a specialist social worker for 10 years and I absolutely love my job and see every day the difference specialist workers can make for people who have a sensory loss. Neither Keiran nor I are seasoned runners so I still cannot believe that we have agreed to run the marathon together, to say it is going to be a challenge is an understatement! I know that every penny we raise will be put to good use and we really hope you will help us to smash our target of £400."
Lucinda https://uk.virginmoneygiving.com/LucindaLighting1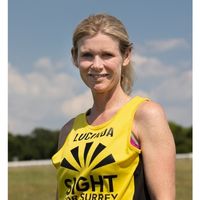 "I have been working at Sight for Surrey for nearly two years and have seen first-hand how the help and support the charity provides transforms people's lives. Especially during the pandemic the staff have worked tirelessly to continue providing assistance to those that rely on Sight for Surrey, including setting up a telephone befriending service to vulnerable people isolating at home. This service has been a life saver to many, keeping them connected with the outside work. Being blind, vision impaired, Deaf, hard of hearing or deafblind can be incredibly isolating and bewildering, and Sight for Surrey provides the support and tools to help people lead independent lives. It's an amazing place to work and I would really like to help the charity continue supporting the thousands of people in Surrey living with a sensory loss."
Miguel https://uk.virginmoneygiving.com/MiguelMatoMarante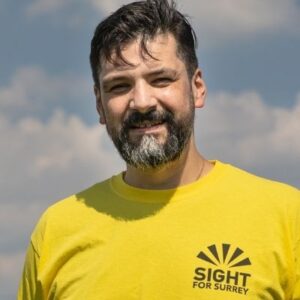 "When I found out that Sight for Surrey had places in the virtual London Marathon I jumped at the chance to take part, I had wanted to enter but missed the deadline. This way I get to take part in this iconic race and help a wonderful charity".
Julie https://uk.virginmoneygiving.com/JulieHargreaves3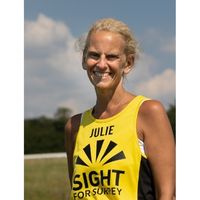 "I love to run and doing what I enjoy whilst raising money for a valuable local cause seemed the perfect way to spend a Sunday".