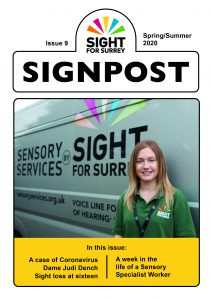 A little later than usual (thanks to COVID-19) but the latest issue of Signpost is now out!
The Spring/Sumer edition of Signpost is brimming with stories including what we have been up to during lockdown, and how we have adapted our services, a day-in-a-life of a Sensory Specialist Worker and how to get your technology assisting you if you are vision impaired or blind. To top the issue off we received some words of encouragement from none other than Dame Judi Dench!
If you have signed up to receive your copy in the post, on CD or USB stick you should have received it by now. If not, then please email communications@sightforsurrey.org.uk with your contact details and we will ensure you receive yours promptly.
You will also find it available in four different formats on our website;
HAPPY READING/ WATCHING/ LISTENING!