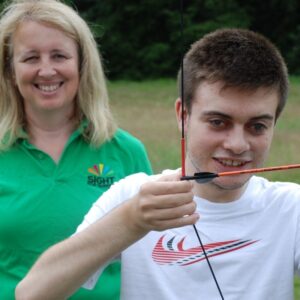 Sight for Surrey has received The Queen's Award for Voluntary Service.
The award is the highest award a voluntary group can receive in the UK and is the equivalent to an MBE; this catapults the charity name to the dizzy heights with the likes of Dame Judi Dench, Lewis Hamilton and Elton John!
Our award recognises the amazing help and support Sight for Surrey's army of volunteers provides to people in Surrey who are blind, vision impaired, Deaf, deafblind and hard of hearing and is the icing on the cake for us in our Centenary year.
Bob Hughes, Chief Executive, Sight for Surrey, said, "We have always provided a range of services delivered by volunteers, and we know how this support helps people with a sight and or hearing loss on a practical and emotional level. The range of support they deliver is enormous: from volunteer drivers, phone befrienders and providing equipment support to individuals – including setting up a computer with Zoom so a vision impaired lady could attend a family funeral in Australia, through to enabling a hard of hearing gentleman to have conversations with his friends and family on an amplified telephone we supplied. We are blessed with an army of thoughtful, kind and resourceful volunteers who go the extra mile and make our service that extra bit special."
Sight for Surrey is one of only 244 local charities, social enterprises and voluntary groups in the country to receive this prestigious award this year from thousands of applications.
The Queen's Award for voluntary service aims to recognise outstanding work by local volunteer groups to benefit their communities. It was created in 2002 to celebrate The Queen's Golden Jubilee. Recipients are announced each year on 2nd June, the anniversary of The Queen's Coronation. Award winners are wonderfully diverse and include volunteer groups across the UK. This year's winner range from rural support for farmers in Shropshire; a community magazine addressing isolation in the Western Isles; a running club engaging all ages in County Tyrone; a film academy and community hub based in South Wales, and a food bank in Greater London feeding vulnerable individuals and providing training opportunities.
Representatives of Sight for Surrey will receive the award crystal and certificate from the Lord-Lieutenant Michael More-Molyneux later this summer. In addition, two volunteers from Sight for Surrey will attend a garden party at Buckingham Palace in May 2023 along with other recipients of this year's award.
Sight for Surrey is a charity that supports people in Surrey who are blind, vision impaired, Deaf, deafblind and hard of hearing. 2022 is our Centenary year and we are celebrating this occasion with a host of fundraising events for more information visit www.sightforsurrey.org.uk/events