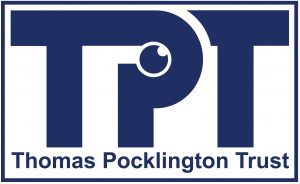 Faced with a sharp decline of fundraising income during the COVID-19 crisis, Sight for Surrey applied for a grant from Thomas Pocklington Trust and is delighted the Trust has agreed to support us with a grant of £10,000. This grant will enable Sight for Surrey to continue providing help and support to people in Surrey who are blind, vision impaired, Deaf, deafblind and hard of hearing.
Lisa Fletcher, Head of Fundraising, Sight for Surrey, said, "As all of our fundraising events and talks were sadly cancelled, we had to quickly look at other income streams to help us continue supporting all the people in Surrey with a sensory loss, especially the deafblind. The Thomas Pocklington Trust COVID-19 Fund has been of great support to us at this difficult time".
Charles Colquhoun, CEO at Thomas Pocklington Trust, said: "We were pleased to be able to support Sight for Surrey in their application. We know this funding is crucial for the charity to continue to provide critical services for the physical and emotional wellbeing of blind and partially sighted people in its community. We wish them all the best and just want to say, keep up the good work".
Thomas Pocklington Trust is a national charity that enables and empowers blind and partially sighted people of all ages to live the life they want to lead. The usual grants process at Thomas Pocklington Trust was suspended and the Trust launched a £500,000 emergency COVID fund in March to support sight loss charities during the pandemic.
There was huge interest in the fund, from across the country, 105 applications were submitted to the Emergency Fund to support either general running costs for the organisation or to fund a specific project that will help blind and partially sighted people throughout this period. Sight for Surrey is one of 55 organisations that were successful in their application.