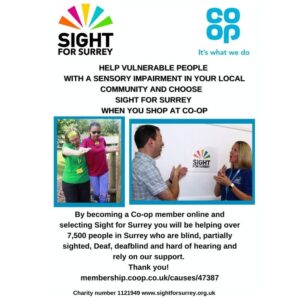 Calling into Co-op to grab a can of coke? Popping out to pick up a packet of peas for tea or visiting Co-op for that much needed mid-week top up shop? Fetcham based charity Sight for Surrey is urging all Surrey residents to support local people with a hearing or sight loss and choose Sight for Surrey when they shop at Co-op.
Co-op Causes donates 2p from every £1, of selected Co-op products and services, to 3 charities and Sight for Surrey are on the receiving end of shoppers donations until October 2021. So whether you're stopping off to stock up on a few store cupboard basics or doing your weekly shop at Co-op you can support Sight for Surrey at the same time too.
To ensure your shop supports the work of Sight for Surrey you need to log onto www.coop.co.uk/membership and register to become a Co-op member. You can pick up a temporary card in store until your official card gets sent out to you in the post. Once you are a member just log into your account and select Sight for Surrey as the charity you support.
Sight for Surrey supports people all over Surrey who are blind, vision impaired, Deaf, hard of hearing and deafblind. You never know when you, a loved-one, parent or Grandparent might need our help, so please support us now so we can continue providing our vital services to all the people in Surrey with a hearing or sight loss and choose Sight for Surrey as your Co-op Causes Charity.