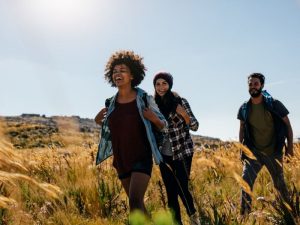 Stride it out with Sight for Surrey's Sensory Steps Challenge today. Look after your mental health and wellbeing by setting yourself a steps challenge today and raise money for Sight for Surrey.
We all seem to love monitoring our steps, how far we've walked, run or cycled and the Sensory Steps Challenge spans all modes of foot transport, whether you've skipped, scampered or sprinted, it all counts towards your steps target.
So what should your steps target be? Could you manage 2021 steps a day or could you reach the staggering sum of 4million steps (2021miles) by the end of the year?
Whatever your target, it is very important in the current health pandemic to remain healthy and active whilst keeping a 2metre social distance from those around you, so set yourself a steps challenge today.
Simply set up a fundraising page and ask friends and family to sponsor you and help reach your personal steps or fundraising target. The challenge is not just for individuals. You can get your family, local sports club, work colleagues, friends and any other groups involved.
Set your steps challenge!
1km = 1,250 steps. 1mile = 2,000 steps
220 miles = 440,000 steps
4,000 steps = 30 minutes walking
10,000 steps = 8km or 5 miles
20,200 steps = 10.2 miles OR 2020 miles = 4,040,000 million steps!
It doesn't matter if you march or meander your steps, what is important is that you are being active and healthy and raising money to enable us to continue helping and supporting thousands of people in Surrey who are blind, vision impaired, Deaf, hard of hearing and Deafblind to lead active and independent lives.
Lisa Fletcher, Head of Fundraising at Sight for Surrey said, "as a charity that relies on public fundraising we are urging Surrey residents to set themselves a steps challenge today and help us support all the people in Surrey with a sensory loss".
This is your chance to share your love for a local charity so dust off those running trainers and get stepping!
For an even greater challenge join the Walk 1000 Miles challenge and raise money for Sight for Surrey.