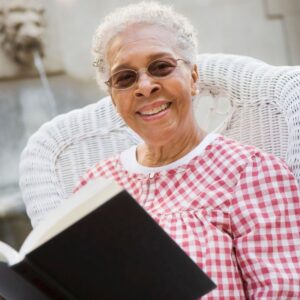 Are you an avid book reader?  Do you struggle to read printed books?  Would you like to find out about talking books and how to access them?
If the answer to any of the above questions is "Yes", then please join our forthcoming Let's Talk Tech webinar on the subject of talking books and the various methods of listening to them.
The webinar takes place on Zoom on Wednesday 29 September, from 11:00am – 12.30pm, and is presented by Gary Eady, our resident technology expert. Martin Tickle from RealSAM Pocket, the easy to use mobile phone for people with sight loss will also be there to answer any questions about this product.
Why not join Gary and find out what's involved in listening to talking books from Amazon, RNIB and other sources.  Have your questions at the ready and Gary will be able to answer them.
To reserve a place please call 01372 377701 or email helpdesk@sightforsurrey.org.uk