What do Communicator Guides do?
Sight for Surrey's Communicator Guides are trained in communication and guiding skills to effectively support people with combined sight and hearing loss.
The specialist knowledge and experience that the team have in understanding the impact of this uniquely recognised disability (sometimes referred to as dual sensory loss or deafblindness) can assist to reduce the isolation, confusion, challenges with communication and mobility a person may experience. Additionally, they can provide advice and information to family and carers.
The aim of the service is to enable people with a combined sight and hearing impairment to have choice and control over their lives and, if desired, to live as independently as possible.
Why do we offer Communicator Guides?
People with a combined sight and hearing loss have the right to live as independently as possible and to have choice and control in their lives.
Since 95% of our understanding of the world comes through what we see and hear, people who have a combined sight and hearing loss face enormous challenges. It is a distinct disability with unique needs and individual service requirements.
Sight for Surrey is one of the largest providers of specialist services, including communicator guides, for people with combined sight and hearing impairment in the UK.
Who can access this service?
Anyone with a sight and hearing impairment can access this service. People do not need to be registered as having a visual impairment or hearing impairment.
Communicator Guides are skilled in using a variety of communication methods including:
British Sign Language
Hands on Signing
Deafblind Manual
Clear Speech
Finger Spelling
Block Communication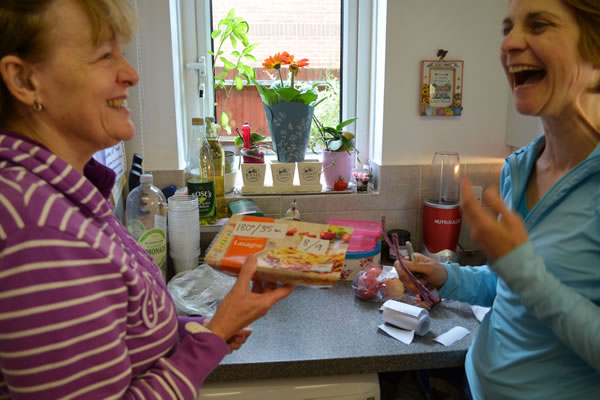 Larraine's story
Larraine has been registered deafblind since 1992 and worked with her Communicator Guide, Caroline for over 6 years. Based in Egham, the two meet weekly to enjoy leisure activities and keep on top of essential household routines.
"Caroline is my eyes and ears- I borrow her hearing and vision to access the world" Larraine explains. "I remain independent with Caroline; she supports me to do the things I want to do."
Caroline is a Drama Teacher has been working as Larraine's personal Comm Guide for 6 years after volunteering as a Befriender with Sight for Surrey for 12 years.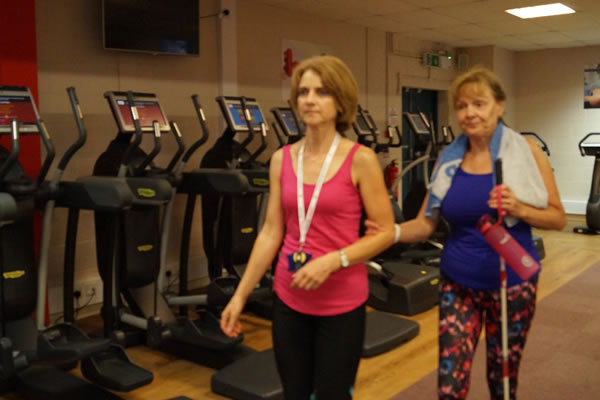 Together, they practise a unique form of non-verbal communication known as haptic signing. Haptic Signing allows them to interact through physical touch and plays an important role in Larraine's gym classes where discreet communication is important. "We have created different codes of touch to translate specific Pilate's terms, such as a 'bridge' position" Caroline explains. "I stand opposite the instructor, watching and listening and then relay the instructions by tapping Larraine's shoulder. The system is quite slick now!"
Caroline's presence also means that Larraine can interact and join in with her classmate's conversations. "One of the women is marathon training and I can keep up to date with her progress."
But not all Caroline's work involves leisure. Each week, Caroline enables Larraine to fulfil essential day-to-day tasks like grocery shopping and paying bills. "When I am in the supermarket, I can't tell when there is an offer on or check best-before dates on food packaging" Larraine says. "Caroline helps me pick my weekly shop- and she knows my preferences. The same goes for clothes shopping; it is important to me to look stylish and coordinated. Caroline helps me with this." In the home, making telephone calls, booking theatre trips and dentist appointments can bring about challenges. "Having a Comm Guide I can trust cuts down a huge amount of hassle and time."
"Being a Comm Guide has changed my outlook on life too," says Caroline. "Larraine is always so positive, so energetic. She always looks on the bright side. I feel lucky to be a part of her life and enjoy my work so much. I am reminded of how precious experiences are and am grateful for the memories we share," she says holding back tears of happiness. "Every. Single. Day."
For more information about Communicator Guides, please contact us.