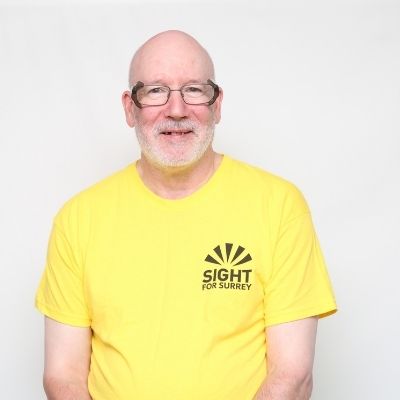 Volunteering is at the heart of everything we do to support and empower people who are vision impaired, Deaf, hard of hearing or Deafblind to live independent and full lives. Becoming a volunteer can be a rewarding way to reach out to people in your community and unlock your own potential.
Volunteering is rewarding
If you speak to people who already volunteer they will tell you they do it because they love it. And that's what we hope you will say if you volunteer for us too!
Michael volunteers as a befriender.
"My role is very rewarding – people are so pleased to receive a call. Sometimes they just want someone to listen to them, sometimes we have a chat, but we nearly always end up having a laugh."
We offer volunteering roles as;
At events
Fundraisers/bucket collectors
Each role has varying amounts of time and input required.  Job profiles for some of the roles are available on the links above. We are sure there will be something to suit you.
We offer training, support and reimbursement of out of pocket expenses to our volunteers. All our volunteers are DBS checked and references are taken.
Finally, we hold regular catch up meetings across the county, produce the inVOLve newsletter and hold an annual celebration ceremony for our volunteers. Also, we are always eager for ideas and feedback on how we can improve our support for volunteers. So, please let us know if you have any thoughts or comments.
Meet Katie
Katie Wilson (Volunteer & Community Engagement Manager) heads up our Volunteering Team and oversees the recruitment and coordination of all activities relating to volunteers. Katie is great to talk to if you're thinking about volunteering for Sight for Surrey and need some further information. Katie can be emailed at kwilson@sightforsurrey.org.uk or call our Helpdesk on 01372 377701 and ask to speak to her.
What next?
If you think you would like to become a volunteer please fill out our registration form and one of the volunteer team will get back to you to discuss your application.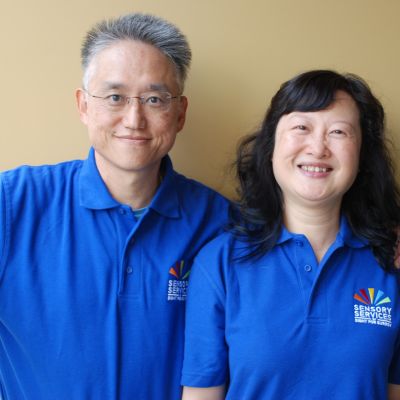 Patrick and Susan moved to the UK in July 2022 and immediately set about immersing themselves in the local community. They found out about volunteering opportunities with Sensory Services by Sight for Surrey after attending the Working Together for Woking event.
Susan and Patrick are both Home Visitors for Sight for Surrey, and Patrick is also a Volunteer Driver.
Patrick said, "I get great satisfaction from being a Home Visitor, we help each other out, it is good for the heart, mind, body and soul. I can serve the community and do something meaningful. The amount of satisfaction I get from volunteering is once in a lifetime. It is not like going to a class, or a lesson, we do not want the hour to be up! My wife and I both have the time to give, so why not volunteer?"
Susan said, "we meet a nice lady, she is quite open-minded, and although we don't speak perfect English, she is very patient. We talk and talk, all she wants is someone to listen to her, so we lend her our ears. I like helping people it makes me happy so I like volunteering as it helps me, and it helps others too, we both benefit."