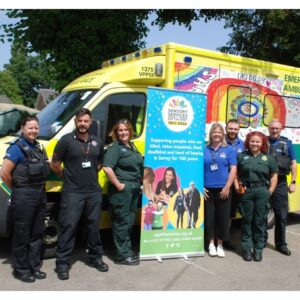 Sensory Services by Sight for Surrey hosted a party for the Surrey Deaf community on Friday 17 June to showcase and celebrate the launch of 999 BSL, the UK's first ever Video Relay Service (VRS) connecting Deaf people to the emergency services (police, ambulance, fire and coastguard) via a remote British Sign Language (BSL) interpreter.
Standing shoulder to shoulder with Sight for Surrey staff were Surrey Police, Surrey Fire & Rescue & South East Coast Ambulance Service showcasing the new service and answering any questions or queries the local Deaf community have about downloading and using the app.
The new service, which will be provided by interpreting and communication support provider Sign Language Interactions, has launched as an app (iOS and Android) and web-based platform. The service, which will be funded by private telecoms companies, will be available 24 hours a day, 7 days a week, 365 days a year and will be completely free of charge to Deaf users and is an important breakthrough in equality for the Deaf community.
While a text relay service already exists, video relay will enable Deaf callers across the UK to make video calls to the emergency services in their own language – British Sign Language – for the first time ever, without needing to use English or ask a hearing person to make a call to 999 on their behalf.
This is another major milestone in improving access for the estimated 90,000 Deaf people in the UK, following the recent historic decision by Parliament to recognise British Sign Language as a language of Great Britain for the first time. The British Sign Language (BSL) Act passed into law on 28 April 2022 after decades of campaigning by the Deaf community.
Susanna MacDonald from Sensory Services by Sight for Surrey said; "The launch of 999 BSL has been a long time coming. This service will make a huge difference for the Deaf community and how quickly we can connect to the emergency services rather than relying on a neighbour or waiting for the next hearing person to come along, especially when the situation is life-threatening. To be able to call directly and explain and communicate in our first language is fantastic and it also means full and accurate information can be translated. I believe this new service will be helpful to anyone with any degree of hearing loss, as a non BSL user would also find this useful to be able to speak to and lipread the interpreter. This is really great news."
 Abigail Gorman, from SignHealth said:
"This is a breakthrough for Deaf people that will save lives and means one more step forward towards equality. We won't be satisfied until Deaf people have full and equal access, particularly to life-saving health services."