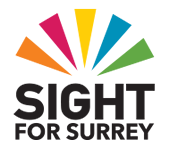 Trustees required
We are Sight for Surrey – an ambitious charity offering a lifetime of support to people who are blind or partially sighted, Deaf, deafblind or hard of hearing. We're proud to be the only organisation of our kind dedicated to helping people in Surrey.
This is an exciting opportunity to join the board of a local user-led Surrey charity dedicated to supporting people with a sensory impairment to overcome their day-to-day challenges, achieve their potential and lead independent lives. You will be using your skills and experience to improve the lives of people with a sensory impairment in Surrey.
Please see the job specification below for more details or alternatively if you have any queries please contact Sandra Chenery:
GDPR Privacy Notice for Volunteers
Telephone: 01372 869962
SMS: 07860 026269
Deaf/hard of hearing line: 01372 869961
email: schenery@sightforsurrey.org.uk
To apply please send your CV and a letter expressing your interest and reasons why you would be suitable for this role to Sandra Chenery by email schenery@sightforsurrey.org.uk or by post to Sight for Surrey, Rentwood, School Lane, Fetcham, Surrey KT22 9JX. Please also return the signed GDPR Privacy Notice to allow us to process your application.
The closing date for applications is 6th August 2020.