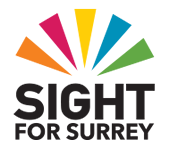 Family Support Worker
Salary: £20,833 per annum (Full time equivalent salary £30,000 p.a. pro rata)
Part-time: 25 hours per week, mileage paid at 40p per mile
Sight for Surrey (SFS) Children & Young People's (CYPs) team is seeking to appoint a Family Support Worker following a successful grant from the National Lottery. The CYPs team is multi-disciplinary and seeks to work imaginatively to meet the needs of the children, young people and their families. The successful applicant will be responsible for developing this role. We have funding for an initial three years with the intention of continuing the service funding permitting.
The Family Support Worker will support families offering by offering a range of services for example; home visits, giving information, guidance, counselling/emotional support to parents and young people as they come to terms with their vision/multi-sensory impairment, and referring on to other services as appropriate.
The successful candidate will also be required to work during weekends when we are running activities/events to support the children, young people and their families. This is a good opportunity to meet parents.  In addition the Family Support Worker will work alongside a Habilitation Specialist to run a recreation activity once a month for young adults between the ages of 18-25 years with the aim of reducing isolation.
For further details of the role please see the job description. An enhanced Disclosure and Barring Service will be required which will be arranged.
Closing date: 3 January 2020
Interview date: 14 January 2020
For an application pack for the above post or a copy of the application form in word please contact Sandra Chenery by email: schenery@sightforsurrey.org.uk, Tel. 01372 869962, Fax: 01372 360767.   Alternatively you may download the forms and job description from the links below;
Application Form Family Support Worker
Equal Opportunities Monitoring Family Support Worker
Family Support Worker Job Profile
GDPR Privacy Notice for Job Applicants
Please send your completed application form, equal opportunities form and signed GDPR Privacy Notice to Sandra Chenery, email address as above or by post to Sight for Surrey, Rentwood, School Lane, Fetcham, Surrey KT22 9JX.
Sight for Surrey is an equal opportunities employer and accredited as Disability Confident. Registered Charity No: 1121949, Company No: 06309405